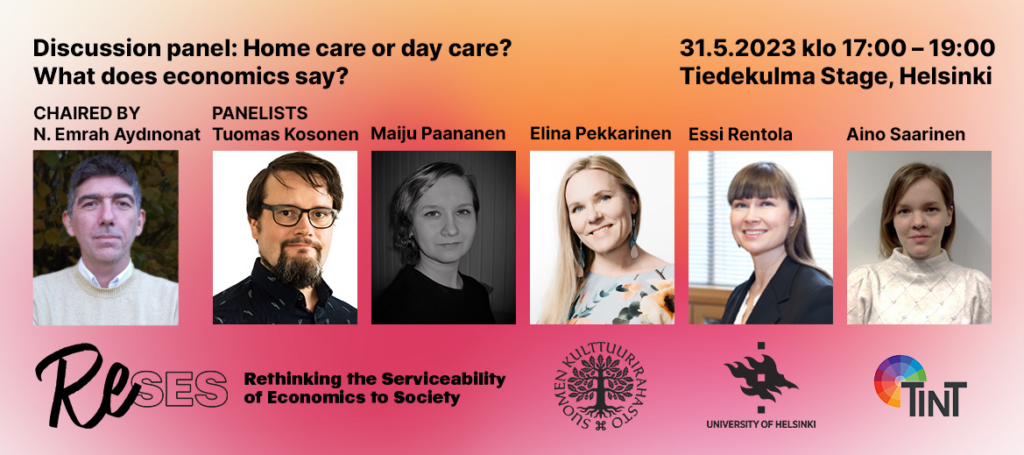 Time: 31st May, 17-19
Place: Tiedekulma Stage, Yliopistonkatu 4, Helsinki
Link to stream: https://tiedekulmamedia.helsinki.fi/fi/web/tiedekulma/player/webcast?playerId=99487739&eventId=234671281
What is the best place for children under 3 years to spend their days? Home care or day care? What does economics say? Since 1985, Finland has been paying home care allowance to parents who would like to take care of their children at home. Economics research suggests that this policy is harmful for mothers, their children, and the labor market. Should Finland abandon home care allowance based on these findings? Can we rely only on economic expertise when evaluating child care arrangements?
More information about the agenda and event – ja täällä tapahtumasta myös suomeksi.
Please join us to learn more about the broader social and economic implications of the home care allowance. We are excited to discuss this with multidisciplinary panel:
N. Emrah Aydinonat
N. Emrah Aydinonat (PhD, Docent) is a researcher at the Faculty of Social Sciences, University of Helsinki, a member of TINT – Centre for Philosophy of Social Science, and the leader of the Rethinking the Serviceability of Economics to Society (ReSES) project. He is one of the chief editors of the Journal of Economic Methodology. More information at http://neaydinonat.com
Tuomas Kosonen
Tuomas Kosonen is a Research Professor at the VATT Institute of Economic Research. He also leads the Work Package on Enviroment and Health in the Finnish Centre of Excellence in Tax Systems Research. Kosonen analyses taxation and the effects of the income transfer system on employment, consumption and the distribution of well-being. Kosonen has conducted several studies on children's home care allowance, first of which was published in 2014 and the latest in the NBER Working Paper series in February 2023.
Essi Rentola
Essi Rentola has worked for the last eight years as a director in the Ministry of Social Affairs and Health in the Department for Social security and Social Insurance. Essi's background is in international questions as well as strategic, budgetary and policy planning in Social Security. Essi has a long career in social security administration and international cooperation. Currently one of her main tasks is to work for Finland's Social Security reform that is stretching until year 2027.
Maiju Paananen
Maiju Paananen is Associate Professor of early childhood at Tampere University, Faculty of Education and Culture where she co-leads Child politics in Early Childhood research group. She holds the title of Docent of early childhood education politics at the University of Jyväskylä. Her research focuses of mechanisms of inequality in early childhood education and childcare system. Special focus of her research is on the question of what policies do in the everyday live of children, families and educators.

Elina Pekkarinen
Ombudsman for Children in Finland promotes and evaluates the implementation of the UN Convention on the Rights of the Child in Finnish Society. Elina Pekkarinen has an academic career in childhood and youth studies specialized in child protection issues. She holds the title of Docent in the University of Helsinki.
Aino Saarinen
Aino Saarinen is University Lecturer at University of Helsinki, Department of Psychology and Logopedics. She holds the title of Docent in the Faculty of Medicine at the University of Helsinki. Her research focuses on psychology, brain research and educational sciences.