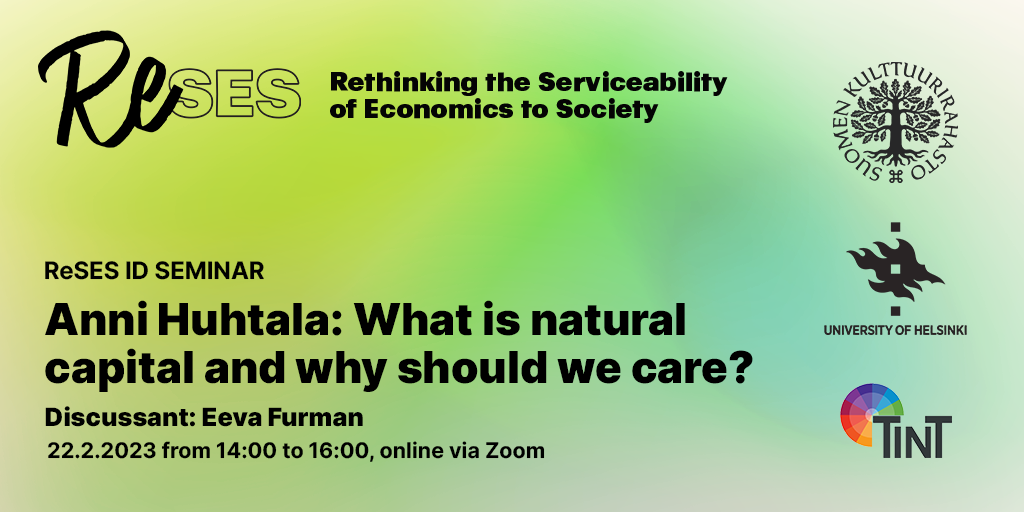 Presentation: Anni Huhtala: "What is natural capital and why should we care?"
Discussant: Eeva Furman
Wednesday 22.2.2023 from 14:00 to 16:00
Pre-register by sending email to: contact@reses-argumenta.fi
The Dasgupta Review (2022) on the economics of biodiversity analyses the economic drivers of biodiversity loss and offers economic measures to address this critical problem. It calls for profound changes in economics, aiming to bring Nature, or natural capital, into economic models. In this first ReSES ID Seminar (ReSES Seminar for interdisciplinary dialogue), Anni Huhtala and Eeva Furman will be discussing the relationship between economics and biodiversity loss. Anni Huhtala will give a talk entitled "What is natural capital and why should we care?", after which Eeva Furman will provide her comments.
After the Huhtala's talk and Furman's commentary, we will have time for open discussion and a chance to reflect on the capacity of economics to recognise the dangers of biodiversity loss.
This is the first event in our ReSES ID Seminar series. ReSES ID Seminars aim to facilitate and improve interdisciplinary dialogue on the serviceability of economics as a policy science. Everyone interested is welcome to join. We are especially looking forward to seeing students among us.
Please see below for the abstract of the talk and further information.
We are looking forward to your participation!
Anni Huhtala: "What is natural capital and why should we care?"
Abstract:
The main message of "The Economics of Biodiversity: The Dasgupta Review" (2022) is that the economy is not disconnected from nature. People, households, and businesses depend on capital resources to function. The problem is that nature is not seen as capital, wealth, and a source of wealth in the same way as human and productive capital. Therefore, economic activity has already led to an over-exploitation of nature's carrying capacity and an unsustainable consumption of natural resources and ecosystem services.
The economy fails to recognise the dangers of biodiversity loss, partly because the value of natural ecosystem services is not reflected in market prices. Nor are the asset value of natural capital or changes in it reflected in financial statements, return on investment calculations or national accounts. This is what the Dasgupta review seeks to change. However, measuring natural capital is difficult. It is equally difficult to show how human labour or productive capital (e.g. machinery and equipment, buildings) can replace natural capital in the production of the economy. In an analytical framework, it is easy for an economist to understand the mechanisms of nature loss. But making biodiversity visible in policymaking is much more difficult. Biodiversity loss is both a local and a global problem, and economic policy lacks indicators that can be used in economic decision-making and policy design.
About speakers
Anni Huhtala
Dr Anni Huhtala is an expert in environmental and resource economics and policy. She is Secretary General of the Finnish Economic Policy Council, an independent expert unit evaluating the objectives of economic policy and the effectiveness of the policy measures chosen.
She has a PhD degree from University of California, Berkeley, and she is adjunct professor (docent) in environmental and resource economics at Aalto University. Her research agenda has evolved from elicitation of citizen preferences to investigation of impacts of risks, uncertainty, and intertemporal timeframes on individual and societal decision-making in environmental, energy and climate policy; applications cover valuation of public goods, examination of policy instruments (taxes, subsidies, standards, mandates) and distribution of income. She has extensive experience in the international development of environmental accounting and welfare measurement, and evaluation of economic and interdisciplinary research. She is member of the Finnish Society of Sciences and Letters (Societas Scientiarum Fennica).
Eeva Furman
Dr Eeva Furman is a chief specialist at the prime minister´s office and the secretary general of Finland´s commission for sustainable development. In addition to coordinating the prime minister-lead commission with more than 100 key societal actors, she supports the Government of Finland with knowledge base on societal capitals for sustainability as well as supports mainstreaming of sustainability thinking and policy development between all the ministries.
Dr Furman has worked most of her career at the Finnish Environment Institute, with the last period (2009-2022) before moving to the Government, as professor, director of the Environmental Policy at SYKE. Her background is in marine biology. She has researched e.g. governance of sustainable development, sustainability transformation, planetary health and wellbeing, science-policy-society interlinkage, environmental evaluation, biodiversity knowledge systems, co-creation and active citizenship.
Practical information
The language of the online seminar is English.
The event will be recorded, and edited version of it will be published later on ReSES website and Youtube channel. Note however that we will only publish the talk and commentary, not the audience discussion.
Pre-register by sending email to us: contact@reses-argumenta.fi
Welcome!